This post was written by David McNeill for Runner's Tribe – an SOS HYDRATION partner. 
Too often in my career, I have walked off the track querying my performances; wondering why I ran so poorly when training pointed to something better…or wondering how on earth I ran as fast as I did when preparations had been poor.
The latter scenario has never been so much a concern as it has been a blessing. But in the case of the former, I was always left wondering what it is I did to sabotage my performance; why, despite my best intentions, my performance didn't improve from one race to the next. I'd like to say the days of unpredictable performances are behind me, but I am human, and I am sure unexplained performances lie in my future. At some point or another, many of us have run a great race, fed off the motivation of that performance in preparation for the next race, and then run poorly that next time around. Why don't we improve sometimes? Why don't races always live up to expectations? What is it we do to sabotage training and performance gains?
 Being overzealous is one factor. While it is sometimes easy to equate harder training with better performance, we sometimes jump the gun, and think training harder is the only answer, when often, the first answer is to be consistent. Imagine giving a lemon a squeeze, and getting some juice out of it. Rarely do you get all the juice out of the lemon with a single squeeze. More juice is yielded when we start to wring the lemon. Just as we wouldn't fetch another lemon before we'd squeezed all the juice out of it, sometimes, we need to keep training consistently before we start training harder.When we prematurely start to train harder, the balance between stress and adaptation is shifted, and we do not recover and adapt at the rate at which we are stressing our bodies. When we train consistently after already seeing improvement, subsequent improvement with the proverbial wringing of the lemon is actually a product of our body's ability to recover faster and more fully from training, so that we adapt quicker and more completely with each training session. Of course, the time comes when the lemon is dry, and you will need to fetch another. Learning when to be consistent and when to train harder represents the art of coaching and training.
Overcompensating for small hiccups in our preparation can also bring us undone. When we miss a session or when a session doesn't go well, we sometimes feel the need to compensate by squeezing the missed training into a smaller window of time, or pushing harder than usual in the next workout. This ends up being detrimental in two ways: one is that often, in our haste, the body is not fully recovered from the illness or niggle that initially caused the hiccup when we overcompensate our training. Secondly, by temporarily training too hard or too frequently, we upset our body's sensitive balance between stress and adaptation. Compensating often has the opposite effect we seek when a niggle, an illness, or a time constraint disrupts our training. Instead of catching ourselves back up in the training we miss, compensating drives us further from where we are trying to get, and sabotaging our ability to improve, even when gains have otherwise been made. But as is the remedy for the hiccups we experience when our diaphragm spasms, the key to navigating hiccups in our training is to take a deep breath; not to compensate, but to accept, recover, and move on. While a hiccup may hinder our progress marginally, compensating irrationally can hinder our progress substantially. Stay cool.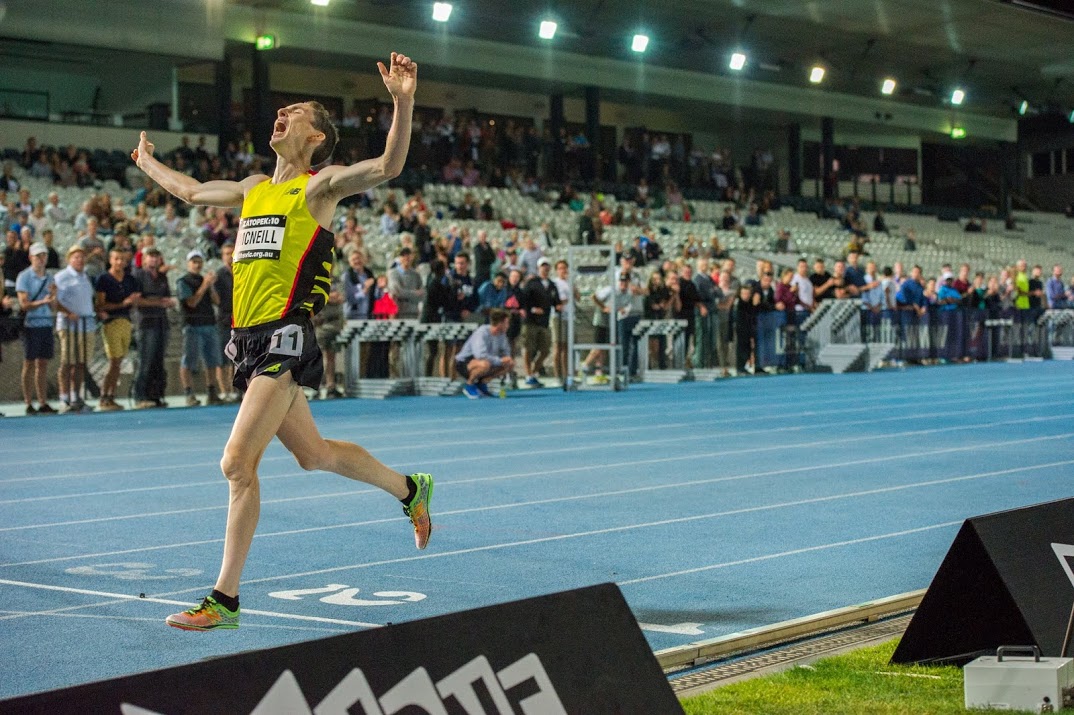 Another factor that can curtail improvement with training gains is the perception that running faster gets easier with more training. "Train hard, win easy" is a deceptive saying. With training, our capacity to physically endure oxidative stress and the build-up of metabolic by-products improves, but it's still uncomfortable, and the closer to our physical limits we approach, the more perceptible this discomfort is. While running equally fast may get easier with more training, running faster continually necessitates submitting to discomfort. When we ignore this truth, we can end up blaming everything from our training, to our diet, to our sleep for a lack of improvement, without every questioning our resolve at the crossroad between comfort and discomfort come race time. At the outer margins of our human capacity, when improvements become more marginal each time we get better, increasingly, our improvements rely on our ability to endure more discomfort for longer, than on our ability to get physically fitter. When our supply of lemons dwindles at the limits of our human capacity, we are spending a lot more time wringing out those lemons. We are trying to get the last drop of juice out of them before contemplating fetching another lemon; before contemplating training any harder, and increasing our injury risk. Wringing the last drop of juice out of a drying up lemon is a kin to enduring more discomfort at our physical limits – the juice is there, but we must work for it and endure it, unlike the first early squeeze of a fresh lemon.
I myself am guilty of all three sources of sabotage. And when I have performed better than my training indicated, it was probably because I was a little underdone rather than overdone. Avoiding sabotage is both a delicate mental battle we have with ourselves, and a carefully learned art that comes from experience – both our own, and our coach's. The best combatant to sabotage is thinking less, and listening more. Most often, sabotage happens when we make irrational decisions – when we are over motivated, when we are thrown off by the unexpected, or when we are overconfident. Half the battle is recognising when we are over-motivated, overconfident, or thrown by the unexpected. The second half of the battle is finding someone you trust (i.e. a coach), and seeking a dose of perspective!
Follow Runner's Tribe
THIRSTY? TRY SOS

HERE

TODAY